By J. L. Mulvihill
Tree-hugger. Hippie. Flowerchild. Granola. These are only a few of the names my southern friends have unceremoniously given to me since I moved to the South from California.
I admit I have been known to hug a few trees out of pure silliness and I admittedly do love nature, I am no flowerchild of the sixties. Born too late, I cannot lay claim to the hippie movement either, unless perhaps you count living on a boat in the free anchorage of the San Diego Harbor. Oh yes, that time in my life paved the way for some serious name-calling by my peers. I was a pre-teen at the time and as we all know that particular age group can be quite vicious. I survived the tumultuous years of verbal abuse from my counterparts, only to find myself an adult and right back in the same situation.
Another term I'm not sure is proper yet continually cast in my direction is Granola.  Now it is my understanding that a person who is usually referred to as Granola is a vegetarian, wears hemp clothing, or goes au naturel.  I can't say if this is true as I have never met anyone claiming to be a Granola.  The nickname Granola sticks, though, like the honey that holds the granola together in a breakfast bar. It is a pet name given to me in foolish affection and I wear it with pride, for I am a real Californian born and raised.
I would like to add in my defense that I am a Southern Californian. However, I found that adding the word Southern to California, does not seem to mean much to anyone in the true South. They merely snicker as if they hold some precious secret magic to the word South. Okay, well, maybe they do.
Like Californians, Southerners do not lay out in the sun to get a tan, it's too hot. Southerners are neighborly, have very close-knit social groups, afternoon tea parties, and Sunday night potlucks at the church. There are traditions, and social rules that must be adhered to. "Yes Ma'am" and "No Ma'am." Respect must be earned before friendships and families are merged.
Californians generally are free spirited, live and let live, work hard, and enjoy the sunshine for that is what it's there for. Social networking is broadly woven, and families are intermixed and intertwined. Formal names are dropped, and friendships are given openly, until there is reason for misgivings.  Religion is by preference and of wide variety, and potlucks are at the park or the beach.
There is a misconception about Californians.  California has a reputation of either being filled with Granola types or High Roller movie directors with fast cars, Hollywood lights, and tanned pinup girls, just as Mississippi has a reputation of dirt roads, outhouses, and barefoot children walking miles to fetch jugs of water. People tend to create misconceptions based on little facts and lots of opinion.  It takes a journey of acquisition to understand and know about a place and its culture.
My journey to Mississippi began as a bittersweet experience that I will long remember. It was 1992, the year that Johnny Carson hosted his final episode on The Tonight Show and President Bush vomited on the Japanese Prime Minister. A homesick friend who had married and moved to the South begged my husband and I to come and live near them in the town of Vicksburg, Mississippi.
I had never been to the South, it sounded intriguing, and after all, home is wherever you make it. I regretted leaving California, for there were so many things I would miss. My family, my friends, the beach, fish tacos, carne asada burritos at two o'clock in the morning, the list could go on forever. I loved the ocean and that for me, next to my family, was the hardest to leave. But I was a grownup now and it was time for us to grow up and leave the nest. So, with a heavy heart and exhilarated excitement combined, my husband and I took the path in life that would lead us far from all that we loved.
I was asleep when we crossed the border from Louisiana into Mississippi after three days of traveling. Now our friend Donald, with whom we had been traveling, had a peculiar sense of humor, and he found me to be an easy target for his jokes.  It was at this time he chose the worst part of town he could find and woke me up as we drove through saying "Welcome to your new home."
I opened sleepy eyes to ramshackle houses with broken down cars and mangy dogs lying about. Each house was like the next, connected only by endless green vines that seem to choke the life out of everything. I rolled down the window; the air was hot and sticky and felt heavy to breathe. As I sat back and watched the dilapidated housing go past the window I cried. I felt the pains of poverty and despair as my own emotions and apprehensions filled me.  What had I done?
At last Donald, my trickster chauffeur, relinquishing a heartfelt laugh, confessed that he was only kidding and drove me to the city of Vicksburg.  It was a quaint old city that held promise.  I was relieved that there was civilization and admired the antebellum homes we passed.  However, when we were at last taken to our true home, I found it to be not much better than the dilapidated homes he had showed me earlier on the other side of town.
In all my years I had never seen a shotgun shack and had only heard of such things in novels and movies.  But here I was standing before what could easily have been the very house where Bob Ewell and his eight children lived in the novel To Kill a Mockingbird.
The stairs groaned in protest as I climbed three levels to a covered porch that appeared to be in a desperate need of repair. The front door entered into the kitchen where a dominating wood furnace dating back to the 1950s filled most of the room. There was an old seventies-era dinette set that circularly sat six, and an ancient yellow rusted refrigerator with a small countertop next to it housing a warming plate and a grease-spackled Fry Daddy, but no stove.
Donald's new wife Samantha protested immediately, reminding Donald that he had promised to have a stove installed for her prior to us arriving. This, I guessed, was their first fight, which I ignored as I continued my inspection of my temporary home.  I found the next room to be a little more hospitable, being the living room with the normal furniture, a television, and the back door? Or front door?
The living room became our room, and the newlyweds had the only bedroom situated just off the living room and barely large enough to fit a queen-sized bed.  We slept on the floor, as the couch did not open up into a bed. The bathroom, to the left of the kitchen, offered no luxury other than the deep clawfoot bathtub. This turned out to be no luxury at all, since you could only fill it no deeper than one quarter of what it held.  We could not flush toilet paper down the commode either. These inconveniences were due to the fact that the drain field was just out in the side yard in the grass rather than piped through to the sewer.  I groaned in despair once again and wondered what I had gotten myself into.
My first experience of southern hospitality was soon relished upon me when the neighbor across the street, who was actually the landlady, brought us a basket of home-fried chicken, butter beans, corn bread, and sweet baked goods. Her gracious southern demeanor and motherly reassurance soon brought calm to my emotions and optimism to my spirit.
I found myself employed not long after we moved in at one of the local restaurants, where I was able to meet more of the locals. The restaurant turned out to be a popular stop for all-you-can-eat crawfish and shrimp. Here I found another shock of culture differences. Where I came from, one did not eat crawfish. Crawfish, or what some of the locals fondly called mudbugs, to me were crawdads and were something to avoid in mountain streams because they pinch your feet. I had never considered them to be edible, though I did hear some people used them as bait. Nowadays, I can't get enough of them, and the spicier the better.
Fortunately, we only had to stay with Donald and Samantha on the floor of their living room for three weeks before we found a place of our own.  Thanks to Ms. Dixie, another gracious southern lady, we rented a lovely home on Mercer Street just off Halls Ferry Road.  The house was blessed with the most incredible magnolia tree that spread over the side yard like a huge umbrella. The sweet aroma of magnolia blossoms permeated the yard and in through the windows.
By now I had grown accustomed to the southern landscape and found it to be intriguing and mysterious to say the least.  Instead of finding the green vines of the non-indigenous kudzu to be choking the landscape, I now saw it in a different perspective.  It seemed a fairyland to me, with green canopies and vines heavy with dark leaves molded to the shapes of underlying trees or shrubs giving it an Orphic resonate.  Some of the old houses I thought were dilapidated buildings, I discovered to be old homes-built years ago where generations of family lived. History in the making.
The weather, predictable yet not, became a new and wonderful thing to me. California had thunderstorms, but not often or with such vigor as the storms in the south, and I loved them.  I am sure the neighbors thought us mad as they watched my husband and I dance in the driveway like deranged lunatics while being pounded by heavy drops of steamy rain beneath a tempest sky. Yet nothing that could be done about the heat, and not having central air added to our misery.  A lone window unit filled the living room with the necessary relief, and that is where I spent a lot of my time, standing in front of it.
July came and I spent my first Fourth of July in Mississippi in extreme disappointment. When I asked about the Fourth of July celebrations I was informed that Vicksburg, having surrendered to Grant in 1863 on that very day, did not celebrate our nation's independence, but rather mourned. Now some say that Vicksburg did indeed start celebrating the Fourth of July back in 1945.  However, something must have happened between that time and 1992, because I know for a fact that in 1992 Vicksburg did not display fireworks.
Though sad yet intriguing, the chronicle of this town's 47-day siege had put a damper on one of my favorite holidays.  We were loathe to sit and grieve over a history to which I did not relate. With determination, we gathered fireworks from a nearby town and Donald and my husband sat in the kitchen the night before and created our own fireworks display.  The next day we finally persuaded the neighbors down Donald's street to join in the fun, and we barbequed and shot off our own fireworks. It was a Fourth of July I will never forget.  Someone else must have enjoyed our fireworks too, because a few years later Vicksburg started having elaborate celebrations.  I know it would be silly to think we had anything to do with that, but it is nice to think that maybe we did.
July of 1992 was the last month we spent in Mississippi. A few weeks later my husband landed a job with a major company in Virginia.  Since we could not pass up this opportunity, we packed our bags and bid a fond farewell to Mississippi. Little did I know that six years later I would be returning and on better terms.
A journey can be many things; it can be going from one place to another, or it can be a passage through one's life.  When I left California in 1992, I took both of these journeys.  I left the security of what I once knew to become my own person in a place that was strange to me.  In doing this, I set out on a journey where I learned about other people and their cultures. I also learned about myself.
When I returned to Mississippi in 1998, I came with a different mindset. Though we struggled yet again for the first few years, I came to know Mississippi in a new light. We became part of the community and raised our children here. Through my friendships here, I have learned a lot about the strengths of a southern woman.  I will always be a California girl deep in my heart, but I would like to think that some of these strengths have rubbed off on me and reflect in my character.  There is an impression here in the south that is impossible to define in one word, for it is a multitude of feelings, but it lingers. It is a wisdom, a durability of the soul, a camaraderie, a sense of family and pride.
Mississippi is our home, and we revel in its mysteries and southern charm.  We are anxious to show anyone new to Mississippi that it is anything but what they think it is. I may always be a Granola, but I am a Granola in the South.
__________
Though J L Mulvihill (Jen), is a descendant of Hollywood royalty, she relinquished her crown and rock star days to obsess over her passion for telling stories. An author of young adult fiction and an award-winning screenplay writer and public speaker, Jen dabbles in a variety of genres including science fiction, fantasy, steampunk, medievalpunk, horror, thrillers, and historical fiction. Her recent debut as host for the talk show On The Page with Geeky Side Network TV has got everyone asking, "What will Jen do next?"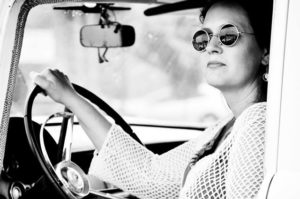 To find out the answer to that question check out Jen's webpage at www.jlmulvihill.com where you can also find her books and short stories. Or just type in jlmulvihill for all social media and you can catch up on Jen's much ado on Twitter, Instagram, and Facebook. You might just happen upon her sporadic foodie fest Jen Can't Cook where Jen tests her hand at old style cooking.
Jen's y/a series, Steel Roots, is based in the steampunk genre and engages the reader in a train hopping heart stopping adventure across a dystopian America enclosed within the walls of its own making. Follow young AB'Gale Steel as she travels across America in search of her missing father learning about the world around her as she goes, and The System that has a hold on its people. A story of love, friendship, hope, and the courage to fight back injustice. 
Jen is also the author of a y/a medievalpunk series, The Elsie Lind Chronicles. This epic adventure boasts of demons, dragons, and dark witches. From the strange and dark corners of her mind Jen has created an extraordinary fantasy world. Weaving Scandinavian folklore into the telling of the adventure of a young girl who is struck with amnesia and finds herself in the middle of an ancient forest in a world filled with mystery and danger. 
Not only is she known for her writing but also her public speaking, where Jen encourages other writers to hone their skills. Currently Jen is working on several writing projects including a science fiction novel, a thriller, a children's book, toss a couple of cookbooks in there and some poetry, include several movie scripts, and Jen will never get any sleep again. Ahh, but it's gonna be great!
Check out J L Mulvihill's books on Literary Underworld!