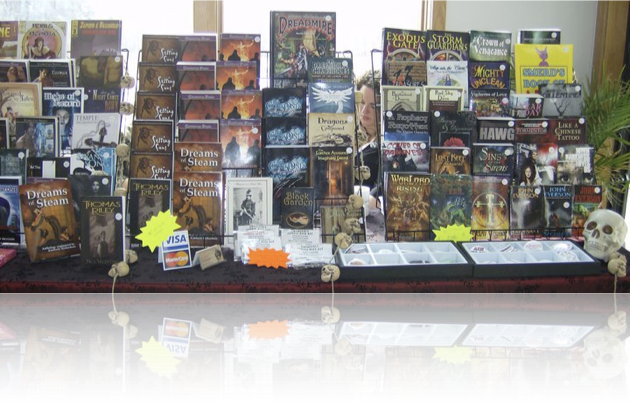 The Literary Underworld is an author cooperative, not a publisher or a traditional bookstore or a literary agency. 
It's tough times for small press, and we're doing our part to help feed the hungry authors. The Literary Underworld was created by an author, run by authors, and when we tour conventions and book fairs throughout the U.S., you'll find authors working the booth. Our books mostly come from small presses of genre fiction, purveyors of horror, science fiction, fantasy and romance.
What makes us different? Most of our books come directly from the private stock of the author or small-press publisher, so when you buy a book here, a larger portion of your money goes directly to the person who wrote the book. Here you can find all the best speculative fiction from the small press, including books that are out of print or rare. All are offered directly from the author or publisher, not through a distributor, so the writer keeps a much larger percentage of the money – and often we can beat Amazon's prices.
We hope you will make the Literary Underworld your first stop for speculative fiction, with an eye to keeping independent authors in business creating the wonderful, dark and fantastic worlds you love to visit. And look for us at conventions and book fairs throughout the U.S.!
2023 shows:
Conflation, St. Louis. Feb. 24-26
Imaginarium, Louisville, Ky. July 14-16
Archon, Collinsville, Ill. Sept. 29-Oct. 1
ContraKC, November (dates TBA)
---
The Literary Underworld, P.O. Box 741, Edwardsville, IL 62025