We denizens of LitUnd Towers are absolutely thrilled to announce that Crone Girls Press has joined our cooperative! Some of us have already had the pleasure of seeing our work published by Crone Girls in its fascinating and creepy anthologies, and we're looking forward to many more terrific volumes from this up-and-coming new press.
This coming weekend is our triumphant return to Midsouthcon after four years or so of missing out on the Memphis fun, and we're delighted that Crone Girls publisher Rachel Brune will be joining us for the first time there! (That means Rachel also hasn't experienced the Literary Underworld Traveling Bar. Shhh, no one tell her.)
We hope you enjoy the offerings from Crone Girls as much as we have, and look forward to sharing them with you! And now, a few words from Rachel.
In 2019, I sat down to publish a collection of my sister's short horror fiction. When she sent a grand total of one story, I decided to recruit some of my writing friends who also wrote horror, and our first anthology,
Stories We Tell After Midnight
, was born.
With our first title under our belt, I decided to branch out and publish two anthologies in 2020. The first,
Coppice & Brake
, was a full-length anthology of horror and dark fiction with distinct Ray Bradbury vibes. Its publication also coincided with the Great Plague of March 2020 and beyond.
Even though writing, reading, and publishing horror in the midst of a life-changing pandemic isn't everyone's cup of tea, we've managed to put together a decent slate of horror anthologies that feature the work of authors from all over the world. In addition to the full-length projects, we began a series of three-novella mini-anthologies,
Midnight Bites
, the first of which featured the work of Literary Underworld's own
Elizabeth Donald
.
So, what's next for Crone Girls Press? We're currently working on a sequel anthology to Coppice & Brake, titled Tangle & Fen. We have several Midnight Bites volumes scheduled for 2022, and are currently reading submissions for more. You can find us at a number of fan conventions throughout the southeast, as well as with the Literary Underworld.
And, finally, if you'd like to come hang out with the Fiendish Readers of CGP, come check out our
Facebook group
.
______________________________________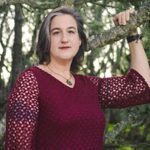 As a military journalist, Rachel A. Brune wrote and photographed the Army and its soldiers for five years. When she moved on, she didn't quit writing stories with soldiers in them; she just added werewolves, sorcerers, a couple of evil mad scientists, and a Fae or two. Now a full-time author and writing coach living in North Carolina, Rachel enjoys poking around former military installations and listening for the ghosts of old soldiers… or writing them into her latest short story. In addition to writing, she is a contributing editor to the Writerpunk Press anthology series, which benefits the PAWS no-kill animal shelter in Lynnwood, WA. She also contributed her editing talents to the Pride Park anthology, proceeds of which benefit the Trevor Project. She lives with her spouse, two daughters, one reticent cat, and two flatulent rescue dogs.