It is fashionable to drape rainbows across businesses in June, but the real hope is that business supports LGBTQ+ causes and art all year round. We're a work in progress, but Literary Underworld has always striven to be allies, co-founded by LGBTQ+ writers – and we have been banned in Utah because of it! (It's a long story.)
Here are some of our works that featured LGBTQ+ themes and characters and/or are written by LGBTQ+ authors. Check them out – in June and the rest of the year.
Glad Hands by Angelia Sparrow and Naomi Brooks
Chuck Hummingbird has a nice, safe run, from Pacifica to the Tribal Lands. Even in the fragmented United States, freight still moves between the resulting countries. When he's tapped for a perilous run down past Heartland, the last thing he needs is a pretty blue-eyed drifter, but he can't get Seven out of his head or his bunk. When the Confederated States prove more dangerous than Chuck feared, they're caught in a terrifying flight towards safety that will drive both of them and the love they've found to new limits.
West of Sunset by Dennis R. Upkins
For Brecken Everett, there's never a dull moment. When he's not dealing with a demanding course load and honing his magic as top student at Lightmage University, he's working as a private investigator and using his skills to protect the innocent from the darkest forces. In two action-packed adventures, Breck demonstrates that outnumbered and outgunned is when he's at his best.
In Keepers, Brecken is enlisted to aid Jacob and Joshua Phoenix; twins, the last Pyrians, the last of an ancient race. The Brothers Phoenix are on a quest to uncover clues to their past. When they find a lost relic, a pair of demons claim it. With Brecken's aid, the twins are determined to not only stop the threat, but have some fun in the process.
West of Sunset takes place a year after Keepers. All Brecken wants to do is get out of Atlanta. Heading to Los Angeles with his best friend, he plans a vacation of surf, sun, partying and relaxation… until the boys stumble upon a museum heist connected to a biker gang of vampires with plans to raise a most dark power. Matters get even more complicated with the involvement of a mysterious and powerful witch. Witches, museum heists, arising malevolent forces, vampire biker gangs, even Brecken's vacations are just another day at the office.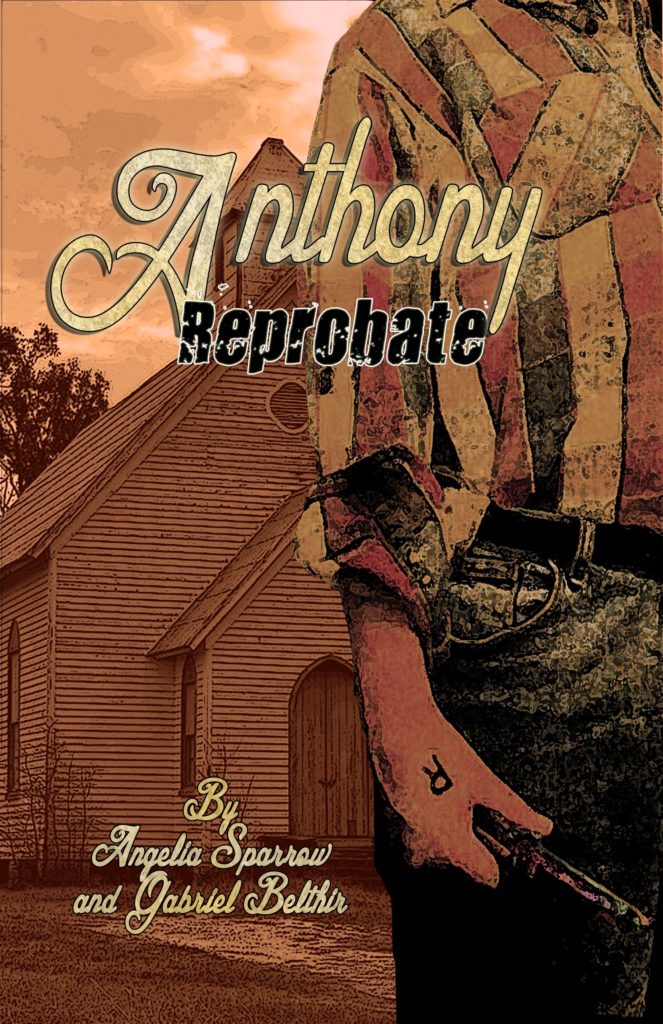 Anthony Reprobate by Angelia Sparrow and Gabriel Belthir
James Ligatos is a man with an unusual hobby. He turns promising young criminals into world leaders.
Anthony Hatcher is not a criminal. He's a Reprobate, rescued from the depths of a Heartland mental hospital, tortured and forgotten for daring to break every moral code.
So begins the most unusual training the Ligatos group has encountered. A rule-breaking, nonlinear learner may be more than all of them together can handle. He may also be their last hope to stop a war, for a growing evangelical movement in the Heartland is calling for a crusade to re-unify the ten countries that were once the United States of America.
It is up to Anthony to become everything he hates, a teetotalling revival preacher, to save the land and the man he loves. Worth it.
Methuseleh's Legacy by T.W. Fendley
Lilith Davidson has nothing to lose. Diagnosed with terminal cancer, her only hope for survival rests in an experimental longevity serum she herself helped to develop using an intuitive-based protocol known as remote viewing. She never dreamed the treatment could be so wildly effective… nor did she expect its unusual side effect.
Now, as Lilith and the other eleven Methuselah Pioneers struggle to embrace the serum's gift, powerful forces condemn their miracle cure as a violation of life's natural order and threaten their lives. Will the treatment help humanity or tear society apart?
Adventuresses by Angelia Sparrow
Take flight on an airship bound for ecstasy and California.
Fall in love with a waitress. Or Medusa.
Hold off the zombie invasion of Oklahoma or roll a rig through it in Kansas.
Treasure hunt to save a feline lover.
Enjoy a steampunk medical demonstration for curing nervous hysteria.
Ten tales of lesbian adventure take you to the far reaches of the galaxy, or the science fiction convention down the road, to Texas in our world or on a timeline when the Confederacy found a way to make radioactive bombs.
Find your hat. Adjust your goggles. It's time for Adventuresses.